Original article by Denis Chaton
Translated by Jelena Macan
Proofread by Barbara Ann Klein
The new rikishi on the banzuke
There are four new rikishi appearing for the first time on the banzuke this Aki basho. One of them is returning after being banzuke-gai; the three others, among them a new Mongolian who will swell the already existing army, are making their first steps in ozumo. It is notable that July promotions in the past two years had only one or no shin-deshi, so this is an improvement in spite of difficult circumstances.
This generation of shin-deshi is characterised by less than impressive size, since the heaviest of them shows "only" 123 kilos on the scale, the lightest being Kaneko of Kokonoe beya, the returnee. There is no particular tendency as far as their ages are concerned, which range from a youngster from Takanohana beya (16 years old) to an already experienced wrestler of Irumagawa beya, the Mongolian Aratoshi.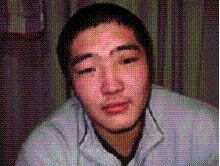 Aratoshi (source: Nikkan)
To give credit where it is due, we shall begin with the rikishi who won the mae-zumo tournament without any difficulty, the Mongolian Aratoshi. A graduate of Tokyo University of Agriculture (traditional recruiting grounds of Tokitsukaze), while still in high school he was noticed by the trainer of the university sumo team (ToNoDai), who subsequently informed his friend Irumagawa oyakata. Aratoshi was an amateur wrestler in Mongolia, ranking fourth in a high school tournament.
Kotonishikawa debuted in sumo first in junior, and then in senior high school in Kanagawa prefecture, and was part of the team that ranked among the top sixteen on the national level. After his high school graduation, he worked in a soy sauce factory, but decided to enter ozumo after seeing his high school colleague, Kotoenomoto, enter ozumo and have good results.
Kaneko already has four years of experience in sumo. Absent since the Hatsu 2008 tournament, thus far he only reached the rank of jonidan 83 west, with a total score of 61 victories and 81 defeats.
Finally, the youngest of the generation is the protégé of the former yokozuna Takanohana, an oyakata who recruits little, but seems to prefer very young deshi - the opposite of the current tendency to look for the rikishi who already have a history of university or amateur sumo. Takaarashi has no experience in sumo, but has a little history as a judoka, achieving fourth place in a tournament in Ehime prefecture.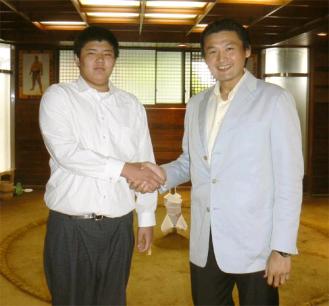 Takanohana oyakata and Takaarashi (source: Nikkan)
In his first year of senior high school, he decided to quit school to join ozumo. "I want to make my mother proud, since she brought me up by herself. I hope that oyakata will teach me the way of sumo and strengthen my character." Takanohana, himself, said that he was "impatient to see what the future will bring, but wishes to let things take their time and to educate him with care."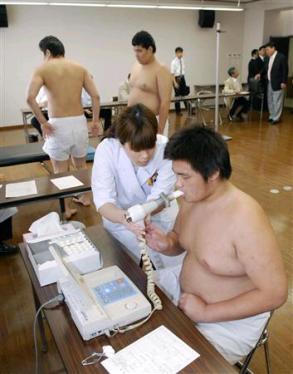 The three shin-deshi during selection tests (source: Sanspo)
Download Le Petit Banzuke Illustré n°29 to get more information on this subject:
Table listing ranks, shikona, real names, birth dates, heights, weights and heya of the new recruits.
(Understandable without speaking French)