Gilles Furelaud
translated by Yann Hamon
proofread by Susan Lyon
Banzuke's newcomers
After the emergence of only one new rikishi on the last banzuke, we can't say there are many more for this 2006 Kyushu Basho. Indeed, only two new rikishi are making their debuts. This number could have been twice as big, as four rookies arrived last September. But one of them was so small he couldn't pass the physical tests. And Harada, recruited by Yokozuna Asashoryu himself, didn't take part in the Aki Basho mae-zumo fight...
A notable common point between the two recruits: their relatively advanced age (21 and almost 20). The first recruit on the new banzuke is Naka, 21 year old. During the mae-zumo fights, this young deshi from Kokonoe Beya was beaten by Tetsuhikari (former sandanme 12, back from injury), and by the other shin-deshi, Kaisei. His victory against Kaisei during the rematch the next day enabled him to finish first among the two shin-deshi.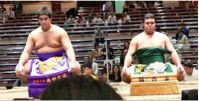 Photo: Kaisei (left) and Naka (© M. Lunau)
Kaisei, the second recruit of this basho, is the fourth foreigner recruited this year (see below). This young Brazilian with Japanese ancestry finished third in the 2004 Junior World Championships, and won the 2005 Brazilian Championship. He entered Tomozuna Beya thanks to the Brazilian former sekitori Wakaazuma. So the Tomozuna beya really has become the «Brazilian heya», as Kaisei joins another Brazilian there, Kainohama. How is this possible, as the heya are each allowed to have only one foreigner? Simple: because Kainohama has just become a naturalized Japanese citizen, vacating the post of «official» foreigner in the heya. Kaisei has very promising physical skills, which have been noticed particularly by the ozeki Kaio. There is no doubt that, under the leadership of Kaio and Tomozuna oyakata, the young man will make the most of his physical skills.
The new rikishi on the banzuke for November 2006
| | | | | | | |
| --- | --- | --- | --- | --- | --- | --- |
| rank | shikona | real name | date of birth | height | weight | heya |
| Jonokuchi 35 East | Naka | Kazuaki Naka | 11 June 1987 | 176 cm | 126 kg | Kokonoe |
| Jonokuchi 35 West | Kaisei | Sugano Ricardo | 18 December 1986 | 193 cm | 146 kg | Tomozuna |
Evaluation of the 2006 recruits
Now that the year is coming to a close, and as the number of shin-deshi is limited, let's take the opportunity to evaluate the year 2006 as far as new rikishi are concerned. We will consider 2006 in terms of banzuke publications, and not mae-zumo fights; indeed, the rikishi who appeared on the banzuke from January to November 2006 have done their mae-zumo tests from November 2005 to September 2006. The rikishi who will go through their mae-zumo tests during the incoming 2006 Kyushu Basho will be included in the evaluation for 2007.
Total recruitment is falling
86 rikishi have made their first appearance on the banzuke during the 2006 year. It's a clear decline compared to the previous two years, with 115 shin-deshi in 2005, and 138 in 2004. In particular there were very few recruitments in September (only one shin-deshi) and November (three shin-deshi, including Harada – see above). In fact, except for the May banzuke (with 11 shin-deshi), all of the 2006 banzuke included less shin-deshi than their equivalents in 2005.
Four foreigners
The rule that allows only one foreigner for each heya makes the number of foreigners in sumo very close to its maximum, as almost every heya has a foreigner among its wrestlers. Therefore, we could expect that the recruitment of foreigners for 2006 would be close to zero. Despite this, in the end we have seen four non-Japanese shin-deshi. The first one was Gagamaru, from Georgia, who started in January. He is now in the makushita division. As for the Mongolian rikishi Torugawa, he is still in the bottom of the jonidan division. Asakomiya has several peculiarities: with Korean ancestry, he is officially listed as a Japanese rikishi; also, he didn't take part in his first basho… Finally, the last newcomer was Kaisei, who benefited from Kainohama's naturalization (see above).
Recruitment levels vary among the heya
Twelve heya did not recruit any shin-deshi this year. On the other hand, five heya have been especially active, with more than three newcomers. The young and growing Shikoroyama beya (run by former Terao) could be awarded the prize for recruitment with no less than eight newcomers this year! See table below.
The 38 heya with at least 1 shin-deshi on the banzuke in 2006
| | |
| --- | --- |
| shin-deshi | heya |
| 8 | Shikoroyama |
| 5 | Kasugano |
| 5 | Sadogatake |
| 4 | Musashigawa |
| 4 | Oitekaze |
| 3 | Chiganoura, Kise, Kokonoe, Matsugane, Miyagino, Nakamura, Naruto, Nishikido, Tagonoura |
| 2 | Arashio, Irumagawa, Isenoumi, Michinoku, Mihogaseki, Shibatayama, Takadagawa, Takasago, Tamanoi |
| 1 | Ajigawa, Dewanoumi, Hakkaku, Hanakago, Hanaregoma, Hatachiyama, Izutsu, Minezaki, Oguruma, Otake, Ounomatsu, Sakaigawa, Takashima, Tokitsukaze, Tomozuna |
Final evaluation with some numbers
86 shin-deshi appeared on the banzuke in 2006. The average shin-deshi of this year is 1.78m tall and weighs 121 kilograms. The youngest active rikishi participated in his first basho in May 2006; it's Kadowaki, from Tamanoi beya, who is 16 and a half year old at the end of this year.