Thierry Perran
translated by Jelena Macan
proofread by John Gunning
Musoyama : A bull quits the arena
Ozeki reaches the end of his strength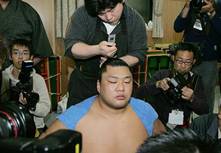 After suffering his third defeat in as many days during the recent Kyushu tournament, Ozeki Musoyama concluded a career that had become a real struggle during the last two years. During this painful period, the Ozeki suffered almost every imaginable injury but never grew discouraged and always managed to preserve his rank against all expectations, even if his performances were hardly worthy of that rank. But this time, aged 32, with such a humiliating start to the tournament to overcome, he coolly realized that he would never get his agility back and that even giving it his all he could not represent the rank of Ozeki with dignity. So, with a heavy heart, in the evening after his third defeat he announced his withdrawal from the ring to his Oyakata, after eleven years of good and faithful service. The following is a review the career of an Ozeki who early on was considered by many to be a future Yokozuna.
A highly talented amateur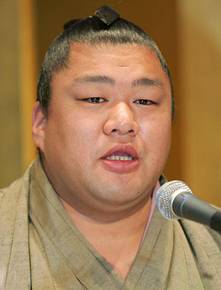 Ozeki Musoyama, whose real name is Takehito Ozo, was born on February 14th 1972 in Mito, Ibaraki prefecture, the same as his stablemate Miyabiyama. Due to his father, Masato Ozo, being the director of the Ibaraki prefecture sumo association, young Takehiko was given a strict education in how to follow the ruling principles of sumo from early on. With such a favorable regimen Takehiko quickly started collecting victories in the local sumo competitions, and his father's expectations consequently increased. By the time he arrived into Mito Nogyo High-school he was already an accomplished wrestler and won the national sumo tournament without much trouble, achieving thus the title of high-school yokozuna. His sumo was pure pushing sumo, endowed by the tachi-ai of rare power. During one competition he even left an imprint of his left big toe on the dohyo! To prevent a serious injury to the toe, his trainer Yosuke Nakamura advised him to wrestle with a sock on his left foot. This was certainly disadvantageous, but Ozo realized that the lack of adherence was compensated by the freedom of channeling his surplus power to the left without need to worry about possible great injury.
Heisei era monster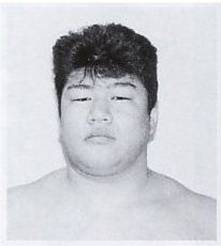 After high-school graduation, courted by numerous heya and universities, Ozo decided to favor his education and enlisted in Senshu University. Little by little he built his adult body, his sumo gaining even more in power and obviously lifting him above any comparison to his fellows. With Yamamoto, future sekiwake Tosanoumi, as his only rival, he reigned supreme in university sumo. So after having won a national amateur championship he decided to profit from the amateur yokozuna title to enter sumo directly in the makushita division in Hatsu basho of 1993, joining Musashigawa stable under the shikona Ozo.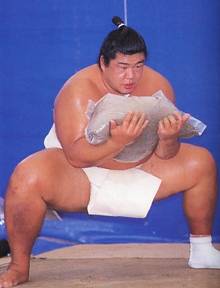 Many amateur and university yokozuna have crumbled upon arrival in makushita, so great is the difference in level between the amateur and professional sumo. But for Ozo, it was nothing. In fact, in Musashigawa he found a choice training partner in form of Musashimaru, at the time a promising sekiwake, who didn't hesitate to expose himself to the onslaughts of the new recruit. Facing off against Musashimaru Ozo's strength increased yet again, and on his appearance in makushita there was no one able to resist the force of his tachi-ai. Final result: two tournaments in makushita, two yusho, and two perfect scores of 7-0!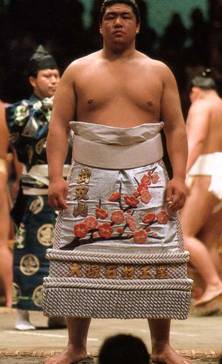 Far from resting on his laurels, he continued his meteoritic rise under the new shikona: Musoyama. He crossed the Juryo division in two tournaments, and in Haru basho of 1994, only seven tournaments after his sumo debut, reached a sanyaku rank. Everyone was amazed at his sumo and its incredible power. The press was so impressed by his performances that they called him "The Heisei era monster". (Japanese count the years starting from the coronation of the ruling emperor. The current Heisei era started in 1989). Never had a former student yokozuna been so rapid in his apprenticeship among the professionals. Even the great yokozuna Wajima (14 yusho) needed 13 tournaments to reach the same stage. Many see in Musoyama a future yokozuna, but this was 1994...
Blocked by two exceptional wrestlers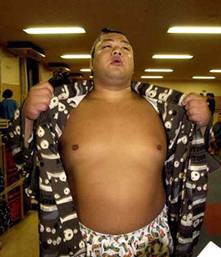 Newly promoted sanyaku, Musoyama improved and grew more powerful with the aid of his training partner Musashimaru, now an ozeki. His bouts, and even his defeats, in particular against Takanohana, continued to draw attention as his surge to the top was awaited. In the September tournament he reached a new level finishing with an excellent 13-2 score. But Musoyama's problem, and not only his, was that 1994 was also the year in which ozeki Takanohana, moved by unreal grace, became the fantastic rikishi we remember today. Musoyama suffered the full brunt of Takanohana's transformation. His 13-2 score passed unnoticed next to zensho yusho (15-0) of Takanohana, who now embodied the hopes of the whole nation to see once more a Japanese occupy the supreme rank. Considering the intensity of long-term warfare between Akebono and Takanohana, the observers quickly realized that there would be no place for promotion of a third yokozuna for considerable time. But the hopes in Musoyama remained great and a rapid promotion to ozeki was expected.
Body tortured by injuries
During his first ozeki campaign his left shoulder gave him trouble and was completely dislocated in January of 1995, an injury which will recur six times during his career. But he recovered quickly and in May and July achieved two tournaments with over 10 victories. It is then, in the September tournament of 1995, that he suffered the terrible injury he feared: his left big toe. The ligaments were injured and the physicians had to deaden his toe. From that point on, Musoyama would never be the same as far as his reaction time and speed of movement were concerned.
He persevered in spite of these frustrating injuries, which prevented him from properly defeating his opponents or remaining on the dohyo in critical situations, and suffered through new injuries, such as one to his left calf in September of 1997. But the time of revival finally arrived.
Driven by pride and self-respect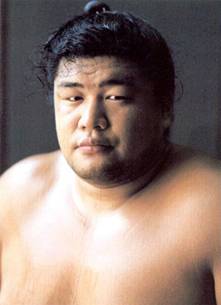 It is well known that courage and hard work always pay in the end. The year 1999 was a turning point for Musoyama. In March he dislocated his left shoulder anew, and was thus forced to watch one of his juniors win a yusho and rise to the ozeki rank before him. Dejima's forceful arrival to the top ignited a healthy reaction of pride and self-respect in Musoyama. In fact, profiting from a low in conditions of the yokozuna Takanohana and Akebono, Musoyama started to produce the tournaments with over 10 victories again and even managed to crown them by winning his first and only yusho in January of 2000. This time the promotion to ozeki was within reach and he did not let the opportunity slip by, winning 12 bouts in March tournament. With the total of 35 victories in 3 tournaments, the NSK was pleased to crown Musoyama as 232nd ozeki in its history.
Permanently injured ozeki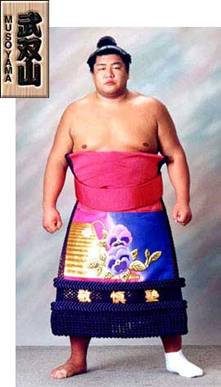 Due to injury to his right arm in training, Musoyama was absent during his first tournament as an ozeki. This was truly symbolic of Musoyama's career at this rank: he was almost never able to return to full form. During the next five years, he dislocated his left shoulder three times, broke his left elbow and injured his right arm. Always wrestling while still not fully recuperated, he gave off the image of a flabby ozeki who fights only to get his kachi-koshi and keep his rank. This situation gnawed him as he realized that he did not present a good image of ozeki. Instead of being in the yusho hunt himself, he had to find comfort in aiding his old comrade Musashimaru to win instead. His face-offs with Takanohana remain anthological both in term of power and of dedication.
Let the final words be those of Kitanoumi, which marvelously sum up Musoyama's career: "Musoyama was justly considered as a potential yokozuna and he has done his best. Unfortunately, after his promotion to ozeki rank he was injured far too often. I think he can be proud of his accomplishments and I think that he fulfilled the responsibilities of an ozeki to perfection." For all he has done during his career, the NSK awarded Musoyama a premium of 32 million yen, or approximately 230 000 euro.
Sources: Sanspo, Mainichi, Yomiuri, Nikkan.