Gilles Furelaud
translated by Jelena Macan
proofread by Denis Chaton
Kazafuzan, the tiger from Kazakhstan
Name: Khudibayev Suyenesh
Born: April 6th, 1984
Height: 1,81 m
Weight: 124 kg
Heya: Nishikido beya
Shikona: Kazafuzan Taiga
Nickname: Tiger!
He is 19 years old. He arrived in Japan on January 9th 2003. He is a rikishi, a professional sumo wrestler. He is a Kazakh.
Kazafuzan, nicknamed "Tiger", is the first rikishi to come from this former USSR republic. He is also the latest of the wrestlers coming from the countries of the former Eastern block to give a try in sumo.
Amateur sumo and wrestling
At an age when most teenagers are peacefully studying in high school, young Suyenesh left his family home for Almaty (Alma-Ata), the capital of Kazakhstan. Here, in addition to studying during the day, he stringed up sumo and wrestling training sessions, and with other youngsters of the sport centre took care of cooking, cleaning, his own laundry. He visited his family only once a year, in summer.
Beginning from 2001, he took part in numerous competitions, both in amateur sumo and wrestling. He started accumulating medals, and in 2003 was awarded the title of "master of sports" in sumo and in wrestling by the ministry of sport and tourism of Kazakhstan.
The recruitment
Suyenesh wanted to try himself out in professional sumo. But he was in Kazakhstan, thousands of kilometres from Japan… His salvation came from two men: Hiroyuki Morishita, a Japanese politician, who examined this project and talked about it to Takasago oyakata. The oyakata couldn't receive Suyenesh in his own heya (which already had two foreigners). So he mentioned him to Nishikido oyakata, whose heya was one of the last without foreigners. At first hesitant, Nishikido oyakata finally agreed to a test-period, which proved to be convincing. On the November 11th 2003, Suyenesh fought and won his first professional sumo match during the trials of mae-zumo, the bouts that new recruits have to fight before appearing on the banzuke for the first time.
Kyushu basho 2003, the mae-zumo tournament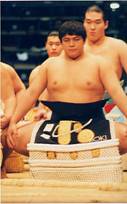 Presentation of new rikishi in Kyushu basho 2003
Kazafuzan (this is the shikona his oyakata chose for him) passed brilliantly the trials of mae-zumo. He won three bouts and lost only one, against Keno, a former makushita returning from an injury. A fine debut, which allowed him to be placed in the third position for the presentation of eleven new rikishi on Sunday November 16th.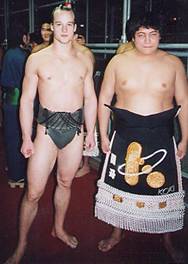 With the Czech Takanoyama
Tiger was now a real rikishi. He could begin his sumo education, and this included going to school. In fact, all the young rikishi have to follow a certain number of courses, organised by the Japanese Sumo Association. In spite of his problems with understanding everything told to him in Japanese, Suyenesh found some of those lessons interesting.


The life in heya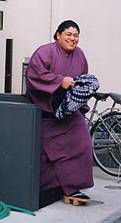 Going out of his heya
Being a foreigner in Japan, and especially in the world of sumo, can often be difficult. But Tiger was able to adapt quickly. Soon his oyakata was pleased by his way of doing all what should be done without having to be asked to.
The life in Nishikido beya starts at 6 o'clock in the morning, with one hour of shiko (stomping the legs to the ground), in order to build a solid body for sumo. One hour of basic sumo exercises follows, and then, finally, an hour of training bouts. The main problem for Kazafuzan is that he is already noticeably stronger than the other five rikishi in his heya. Numerous observers already see him as a sandanme-level wrestler.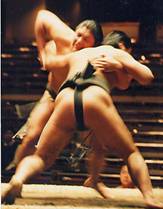 The first bout in jonokuchi (Tiger won)





From training to training

Because of this, Kazafuzan must go to other heya's training sessions. So he often goes to train in the Azumazeki beya, and sometimes comes to the training of Takasago beya. He intentionally arrives a bit late so that he can train with makushita-ranked wrestlers, whose higher level allows him to improve.
Tiger thus had the honour of practicing lesser exercises with Chiyotaikai and Asashoryu. The yokozuna talked with him a little in Russian, giving him some advice, noticing his strength.
Kazafuzan, like other current young talents, has a previous experience in wrestling and amateur sumo. So he has to improve particularly his tachi-ai, a move that is unique to professional sumo. One has to be quick and powerful, and resist the will to pull the opponent down, which is a classical move in wrestling. But in sumo one has to push, to move forward.





Hatsu basho 2004, the first official tournament

For his first tournament, Kazafuzan was ranked jonokuchi 33 west. He started the basho excited but not nervous, strongly decided to win all his matches. And it started well, at first : two victories in a row. Unfortunately, he fell in his third fight against… Keno, once again, who would eventually win the divisional yusho.
In the end, this would be Kazafuzan's only defeat in the tournament. 6 wins, one only loss, and against a makushita-level wrestler : a very fine debut. Moreover, Keno himself admitted that Kazafuzan was very strong. In Haru basho, next March, Tiger will be ranked in jonidan. His best wish for 2004 ? To win his bouts, and advance on the banzuke. That's all we can wish to him.






Many thanks to Katrina Wats for the information on Kazafuzan



/* print("



Download $titre n°$num to get more information on this subject:
...
(Understandable without speaking French)

"); */ //récupération des paramètres $requete_param = "select * from parametres where id = 1"; $resultat_param = mysql_query($requete_param, $mysql_link); $parametres = mysql_fetch_row($resultat_param); //condition compteurs $cond_cpt = $parametres[1]; print("














"); if ($cond_cpt == 1) { //récupération du compteur //*************** modifier la ligne du dessous avec le nom du fichier #### SANS #### extention //************************************************************************************************** //************************************************************************************************** $requete_cpt = "select * from compteurs where mag = 'MDS2_kazafuzan'"; $resultat_cpt = mysql_query($requete_cpt, $mysql_link); $compteur = mysql_fetch_row($resultat_cpt); //code du compteur $source_cpt = $compteur[3]; print("$source_cpt"); } ?>