Francine Perrin
translated by George Redlinger
proofread by Dan Coury
Interview with the manager of the Asashoryu Foundation in Ulaanbaatar
Tuesday, July 25th. I hung up the telephone, hardly daring to believe it. I had an appointment with the manager of the Asashoryu Foundation which, I fervently hoped, would let me realize my dream not only as a journalist, but also as a dedicated fan: to interview the 68th yokozuna in the history of sumo, the Mongol Asashoryu, his real name Dagvadorj.
Dolgor, my talented interpreter and friend, succeeded by some kind of miracle to dig up the precious telephone number and to get the appointment. But time was pressing. "I'm expecting you in ten minutes with your magazine articles. Hurry up, I will not be able to wait", Mr. Sainsanaa had said. We jumped into the first taxi that came. Fortunately almost everyone operates a taxi in Ulaanbaatar. It's enough just to raise your arm and a car will stop, taking you to your destination for a very modest sum.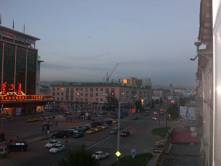 Ten minutes later, we arrived at the luxurious entrance hall of the Corporate Hotel. Mr. Sainsanna, a distinguished young man, very elegant in a black suit, rose smoothly from his vast, leather couch to welcome us. He listened attentively to Dolgor's presentation describing "Le Monde du Sumo" and myself. She mentioned the fact that the former French President Jacques Chirac reads our magazine, while I slid toward the young manager a copy of the article describing the voyage to Japan, written by our editor-in-chief Nicolas Schuler, who had been invited by the President himself to join his official delegation (see Le Monde du Sumo, No. 9, April 2005). Mr. Sainsanaa also quickly skimmed the article on Dream Land, Asashoryu's camp for tourists that I had visited the year before (see Le Monde du Sumo, No. 18, October 2006), as well as the article on the visit by Fujishima oyakata to Lausanne (see Le Monde du Sumo, No. 12, October 2005).
He seemed satisfied with his reading and, reassured by the seriousness of our magazine, promised to show the articles to Asashoryu and to get us an interview. The yokozuna was in Hong Kong on business and was supposed to return in two days. We would be able to meet him in Ulaanbaatar the day after his return and before his departure for Dream Land, which would allow us to avoid the 350 km of dug-up roads and trails leading to Kharkhorin. A stroke of good luck in the dog days of summer. I could barely hide my joy!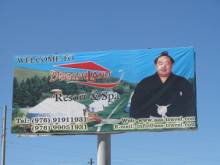 Alas, upon his return from Hong Kong, the yokozuna received an urgent call from the Nihon Sumo Kyokai, ordering him to return immediately to Japan, for reasons that we all know well. No use waiting for the phone call from Mr. Sainsanaa, advising us of the time and place of the meeting with Asashoryu. I would not yet be able to meet my favorite yokozuna this time. Having gotten over my bitter disappointment, I had the idea of interviewing Mr. Sainsanaa himself, one of the young wolves of the new generation in Mongolia. After all, he was the manager of the Asashoryu Foundation, and thus one of his closest collaborators. Besides, it seemed right to me to document the human and generous side of the Yokozuna, to somewhat counterbalance this wild and arrogant image that most people had of him, and which he sometimes gave of himself.
Communicating by text message, Mr. Sainsanaa granted us an interview and we agreed on a meeting in two days time at 4pm in the offices of the Asashoryu Foundation which, according to the manager's business card, was located on the top floor of the building ot the Mongolian National Olympic Committee, not far from the circus where Naadam was taking place. Joined by a friend of Dolgor's, an amateur photographer, we made our way there by taxi with about twenty minutes to spare. One can never be too sure!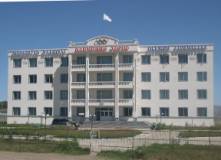 Except that ... we were told that the offices of the Asashoryu Foundation were no longer based there, but in the location of the Kyokushuzan Foundation. We rushed into another taxi whose driver fortunately knew the location and quickly took us there. But in the building of the Kyokushuzan Foundation, there was no sign of the Asashoryu Foundation. We were told that it must be located in the buildings next to the National Circus that Asashoryu had just acquired, barely 300 meters from where I was staying. How ironic! More and more aggravated by these unforeseen obstacles, I pressed my friends to hail another taxi to get us there as fast as possible. In the end, we arrived only five minutes late, which in Mongolia was equivalent to extreme and unusual punctuality.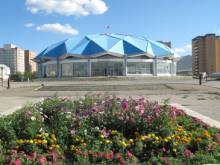 Mr. Sainsanaa met us at the entrance to the National Circus and led us into the old building next door, where the offices of the Foundation were located, excusing himself in advance for their dilapidated condition and hoping that they wouldn't show up too clearly in the photos. Basically, this location had nothing in common with the imposing and modern offices that I had had a chance to visit in 2004 during my visit to the 4th floor of the Olympic Committee. The young manager took pains to reassure us: the state of this place was temporary. Asashoryu was having repairs done which would extend to all the administrative offices, once the circus was entirely renovated.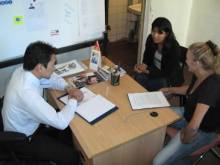 Mr. Sainsanaa found two chairs for us and set them down facing him, in a narrow space that he shared with a secretary. He returned the articles from Le Monde du Sumo that I had left with him, but asked if he could keep the article on Dream Land; I had the pleasure of granting him the favor, of course. He put a notebook and a pen on his desk and was ready to respond to our questions.
Interview with Mr. Sainsanaa, August 8, 2007
Le Monde du Sumo:  First of all, let me thank you on behalf of "Le Monde du Sumo" for granting us this interview.
Mr. Sainsanaa: Thank you for your interest in Asashoryu and his foundation.
LMdS: When was this foundation created, and what is its goal?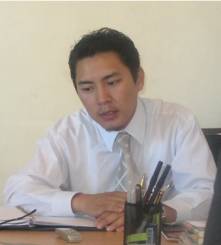 Mr. S.: The Asashoryu Foundation was founded in March 2003 in Mongolia by Asashoryu, the 68th yokozuna of the Japanese Association for Professional Sumo. Our main goal is to contribute to the fulfillment of the children and young people in Mongolia in the areas of education and sport. We have also worked in the area of health and have created different humanitarian programs. It is a non-profit organization created by the will of Asashoryu and basically functions thanks to his financial contributions.
LMdS: What are the criteria for obtaining the support of the Asashoryu Foundation?
Mr. S.: We offer our support to the most talented children and young people, be it in sport, arts or in academics. We follow various competitions, seeking out the most gifted children and offering them financial support if necessary. For example, we have financially supported ten children in order to allow them to take part in an academic exchange program between Mongolia and Japan. Our activity in this area has been temporarily interrupted. We are in the process of developing relations with other Japanese schools, and if successful, we will take up this activity once again.
LMdS: Is your foundation supported only by Asashoryu's private funds?  Does the Mongolian government provide any financial support?  Do you collaborate with other foundations?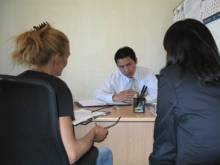 Mr. S.: We do not receive any subsidies from the government. Up to now, the main provider of funds for all our activities has been Asashoryu himself. One could even say 100%. However, certain organizations collaborate with us, for example the Asian Foundation, in the area of education. For two consecutive years we have worked together on a project called "Books" which provides children in the poorest schools with books and scholastic material.
LMdS: In the future, will you diversify your activities or will you remain specialized in the area of young people?
Mr. S.: Yes, besides our work for young people and education, we are more and more interested in social work and we have wanted to make some inroads also in the area of health. These are our goals, but we still have a long way to go. At the same time, by our renovation work, we are in the process of giving the National Circus a new look, a new image in which the young people of our country can take pride. We are investing with this perspective.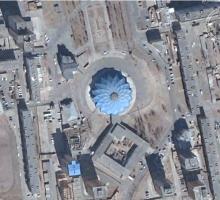 LMdS:  Speaking of the National Circus, I was wondering exactly what kind of projects Asashoryu had in mind.  Will it remain a circus or is he interested in making it a multipurpose facility where various types of performances could take place?
Mr. S.: At the moment we have no intention other than developing this national facility and to give it the quality it deserves. The circus will continue to be a circus. We just want to improve it.
LMdS: Now, if you don't find it inconvenient, could you give us your view on the "Asashoryu affair", that is to say his suspension following the famous soccer match shown on Japanese television?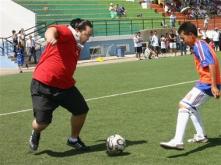 Mr. S.: It's not easy for me to respond to this question, as you might imagine. However, I'll try my best. I would say that sumo is part of the culture and the national identity of Japan. In this sense, a sumo wrestler is in some ways an employee of the NSK. It's the same for the yokozuna, isn't it? You are aware of the punishment he received for having played in the soccer match while he was taking time off to treat an injury.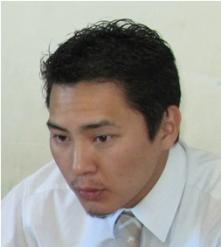 We truly regret this decision (of the NSK), just as the many fans of Asashoryu throughout the world were disappointed by it. But it's the decision taken by the NSK. They are Asashoryu's superiors and this decision was taken by those at the top. This is why we have no way to reject or to contest it. On this subject, Asashoryu himself has explained and apologized, and he has promised to compete at a higher level in the future.
LMdS: So, we could say that this is the official position of the Asashoryu Foundation, correct? (smiles)
Mr. S.: We could say that, yes. (smiles)
LMdS: Asashoryu has already had several problems with the NSK before this incident.  For example, taking the kensho or throwing the salt with his left hand.  If I may ask, what is his own view on what I see personally, and I admit subjectively, as relentless attack by the sumo authorities?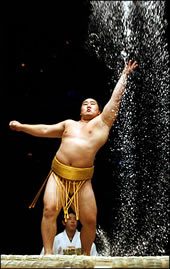 Mr. S.: For the NSK, a wrestler with the title of yokozuna is in some ways a representative of this organization.  Therefore there are specific rules for his rank that have been established in the past. For example, as you have mentioned, one should take the kensho with the right hand, not the left.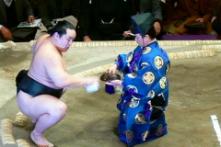 To be a yokozuna means that in all his actions he becomes the image, or the face of the current Sumo Association.  This is why all eyes converge on him.  And this is also why he is the one most exposed to criticism.  Yet, despite all the criticism he has been subjected to, Asashoryu has also received the love and respect of the majority of the Japanese public.  In truth, he has raised the level of this sport.  One cannot argue against this fact.
LMdS:  You have given me your point of view, not his! (laughter) So does this mean that Asashoryu, knowing all this, cannot keep himself from breaking the rules?
Mr. S.: I cannot answer for him. If you ask him directly, he would probably answer it better himself.
LMdS: I could not ask for more! (laughter)  Along these lines, if Asashoryu has an opportunity to come back to Mongolia, do you think I might have the chance to interview him, here in Ulaanbaatar or at Dream Land?
Mr. S.: For the moment, the NSK is not allowing him to go anywhere.  This is very clear.  Everything depends on the decision of the authorities of the sumo association.  If they give him permission, he will return at once to Mongolia.  But I cannot say anything with certainty.
LMdS: But in case he does...? (laughter)
Mr. S.:  Now all the cameras are focused on him.  So if he comes back to Mongolia, you will know it immediately because the media will broadcast the news very quickly. If he comes, we can talk again about the interview.
LMdS: Can I ask you a slightly more personal question?
Mr. S.: About myself?  Yes, of course.
LMdS: How did you end up working for the Asashoryu Foundation?
Mr. S.: I was finishing my studies in the humanities in 2005, majoring in research on Japan and in translation.  After my graduation, I was contacted by Sumiyabazar, the brother of the Yokozuna and the executive director of the Asashoryu Foundation.  He spoke to me about this position of manager.  I went through the trial of the interview and other procedures, and then he offered me the job.  I accepted.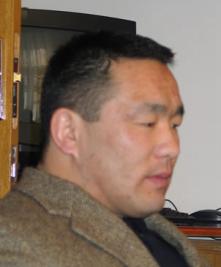 LMdS: Was Sumiyabazar always part of the Foundation?  Because I had read on your website that he was something like a vice director or director, but recently I no longer saw his name there.
Mr. S.: I will give you our brochure. Yes, of course, Sumiyabazar has always been part of our Foundation. He is the executive director, while Dagvadorj is the director. Sumiyabazar directs the Foundation and manages the day-to-day activities because Dagvadorj does not have the time to look after it full time, as you can imagine.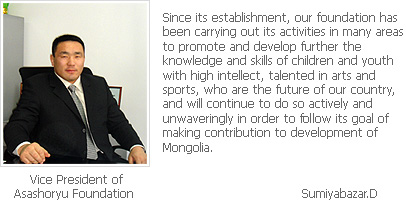 LMdS: To end, if you have a chance the next time you see Asashoryu, please tell him that all his fans in Europe are truly disappointed by this whole affair. We will miss him tremendously until 2008, and we hope that he will be even hungrier than before for more victories, if that is possible. We are really looking forward to seeing him again on the dohyo, and until then we wish him the best.
Mr. S.: Thank you for taking the time to visit us. I am very happy that all the sumo fans who support Asashoryu, whether they are in Mongolia, in Japan, or in Europe, have contact with us.  And I hope that in the future we will be able to work together with the fans and the organizations that support Asashoryu.  Thanks to all the fans in Europe!
LMdS: Thank you for granting us this interview.
November 28, 2007
After a period of being restricted to his home in Tokyo, Asashoryu returned to Mongolia to treat his depression. Since I was doing a tour of the west, and Bold, my traveling companion, wanted to visit his brother-in-law in Kharkhorin, I took the opportunity to see what was happening at Dream Land, to have a coffee in the magnificent restaurant, I don't know... to breathe in the atmosphere there. But the camp was closed. There were only a few guards speaking into their crackling walkie-talkies. Nevertheless, they let me in to take a few photos, to see how the trees had grown and to see if anything had changed. But all the evidence suggested that the yokozuna was not there.
A few days later, after returning from the region, I learned that Asashoryu was at Dream Land, harassed by hordes of journalists, who were following him step for step as soon as he stuck his nose outdoors. Even if I had the opportunity, I would not have wanted to disturb him at his retreat and mix myself up in this voracious pack, even if the readers of "Le Monde du Sumo" had wanted me to!
The author would like to thank Mr. Sainsanaa for his friendly assistance and to the Asashoryu Foundation for the photos from the website http://www.asashoryu-foundation.mn